There are so many affiliate marketing programs out there, which are the best for beginners? 
…How do I become an affiliate marketer for beginners? Can I make good money with affiliate marketing? Should I promote just one product or as many as possible?
As a new blogger, signing up for affiliate programs can be daunting and confusing.
If you find yourself asking all these questions, you are in the right place.
Today, I will be answering your burning questions on affiliate marketing. More importantly, I want to share with you the 5 BEST affiliate marketing programs for beginners, so you can start making passive income as early as possible. 
Let's crack on with answering some basic questions on affiliate marketing.
Disclosure: Some of the links in the article contains affiliate links, which means that if you make a purchase through it, I will receive a small commission at no extra cost to you. This helps support the blog and allows me to continue to make free content. I will only recommend products that I use and love. Thank you for your support!
What Is Affiliate Marketing and How Does It Work?
Simply put, Affiliate Marketing is a way of making commission by recommending other people or companies' products or services to people through your platform, which can be your blog, YouTube channel, Pinterest or other social media channels.
It works in 4 simple steps:
Customers search for something online, through Google or social media

You create content and promote products that meet their needs

They buy the products or services by clicking through the links from your platform

You earn a percentage as a commission of every sale
You can learn more about how to make money with affiliate marketing HERE.  
How Much Money Can you Make as an Affiliate Marketer?
I knew you were going to ask!
So let me give you a balanced view. Especially if you are a beginner, I want to set the right expectation for you.
Let's start with the good news… Affiliate marketers can make anywhere from $10,000 to $1,500,000 a year.
But what's the kick?
This is not an overnight success. It takes hard work and time to get it going.  Think about the income on an exponential graph. It's flat and long at the beginning, then it takes off steeply.
Now that you understand what Affiliate Marketing is and the income potential, let's talk about the 2 rules of thumb for choosing your affiliate marketing programs as a beginner.
Rule #1: Only choose products and services that you are using and enjoy!
As a new blogger, you need a set of tools to build your blog and get it off the ground and running. While there are many FREE tools that you can utilise, there are a few essential paid ones that will save you a lot of time and make your life a lot easier. So if you will be investing in these tools,  why not choose the ones that have good paying affiliate programs?
In fact, I am going as far as saying, ONLY affiliate with tools that you use and enjoy. When it comes to recommending products, you will come across much more genuine. Trust is what converts your readers to customers.
Rule #2: Don't spread yourself too thin at the start.
This is also the answer to your questions on "Should I start with one affiliate product or many?".
If you are brand new, I would start with just one or two. Pick one that you are using, and just can't stop raving about. (Of course, make sure it has an affiliate program.)
Create as many pieces of content as you can from different angles to promote the product. Reviews, ways of using it, the benefit from the product… just to throw a few ideas here.
Once you get good at promoting 1 or 2 products, you can add more to your list.   
With those 2 rules of thumb in mind, here are 5 best affiliate marketing programs I highly recommend for beginners.
ShareASale is a global affiliate network that has over 3,900 affiliate programs. It covers pretty much every niche under the sun.
In terms of promoting actual products, comparing with the popular Amazon Associates, ShareASale offers the same type of service, except they pay a higher commission.
Amazon Associates Program also has a sales quota requirement, which means you need to achieve 3 sales within 180days. ShareASale does not have that requirement.
While ShareASale host affiliate programs for thousands of brands, it also has its own affiliate program too. For every person who joins as an affiliate, you get £1. I know it is not a lot, but it all adds up!
It is free to join. The signup process is pretty simple, but for every affiliate program you apply within ShareASale, you will need to be approved by the merchant.
Tips: 
Do you know Tailwind uses ShareASale as an affiliate network? If you already use Tailwind for Pinterest and/or Instagram, you are missing a trick for not capturing the referral commission by promoting it.
Cost: Free
Commission: varies (2-8%)
Minimum payment threshold: $50
How do I get paid: Free for checks and direct deposit. Wire transfer costs $29
Cookie duration: varies (30-160 days)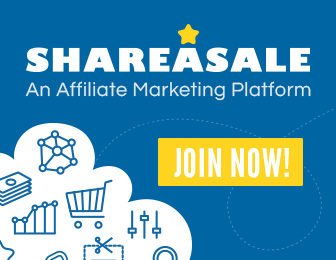 Are you using Tailwind for Pinterest to fast track your blog traffic?
Especially if you have a new blog, while it takes months for Google to recognise your new site and get ranked by SEO, you can use Tailwind for Pinterest to fast track your blog traffic.
Tailwind is the tool that helped me to accelerate my blog traffic without spending hours on Pinterest,  so I want to share it with every new blogger who is struggling with their blog traffic.
While Tailwind uses ShareASale as the affiliate network, it also has a referral program within your Tailwind account that you can send a FREE month of Tailwind ($15 value) as a referral and get $15 credit for yourself when they get an upgrade to Plus. No limit on how many referrals you can make.
The cost of joining as an affiliate is FREE through ShareASale. Open an account with ShareASale, then search and apply for Tailwind affiliate program. However, it did take about 5 working days for Tailwind to approve my application.
Cost: Free
Commission: 15% recurring or $15 credit on Tailwind per referral
Minimum payment threshold: $50
How do I get paid: Free on checks and direct deposit. Wire transfer costs $29
Cookie duration: 90 days
Not tried Tailwind yet? Here's my FREE month link for you. 
Ultimate Bundle (UB) works with top-notch eCourse and eBook creators to sell digital bundles by topics with a huge discount (usually 90-95% off). Topics include Parenting, Fitness, Healthy Living, Blogging, Homemaking, and Photography.
Unlike the other digital course selling website, most of these packaged topics from UB are only available for one or two weeks of the year. This is their unique way of creating a sense of urgency, therefore driving up the sales.
This get-paid-to learn site quickly became one of my favourite affiliate programs. Not only do you get a whopping 40% commission, but you also get a 40% discount if you choose to buy it for yourself.
There are other perks such as, if you make 5 sales on a particular bundle, you will get that bundle for FREE. You also get a small kickback from your referrals who make a sale within 90 days after their sign up.
Once you become an affiliate, you will get free affiliate training and a library full of promotional tools from the "Affiliate portal" to help you.
Ultimate Bundle is FREE to sign up. The approval process is very quick. It only took a few hours for the confirmation email to come through after applying.
Cost: Free
Commission: 40%
Minimum payment threshold: N/A
How do I get paid: Paypal 
Cookie duration: 30 days
Tips: Be sure to take advantage of promoting the upcoming bundles
Email autoresponder is another essential tool that you will be using pretty early on in your blogging business journey. I have tried many FREE ones before I came to the conclusion that, this is one tool that's worth the investment for your business.
GetResponse is one of the best value for money email autoresponder, especially for affiliate marketers.
So if you are going to pay for a good product, why not make some money back by promoting it?
GetResponse has 2 affiliate programs:
Bounty program where you can make $100 for every account referred.

Recurring program, which you make a 33% recurring monthly commission. 
I would personally recommend the Recurring program as it only takes 3 months of reoccurring commission before you make $100. It is a more sustainable income.
GetResponse also has a great selection of affiliate marketing material, including banners (like the one I am using below), text ads, email message templates, videos and etc.
While it's free to join as an affiliate, I truly think this is the best value-for-money email autoresponder tool for beginners.
Cost: Free
Commission: $100 or 33% recurring
Minimum payment threshold: $50
How do I get paid: check or other methods available in your region
Cookie duration: 120 days

               
Yes, I have saved the best for last. 
For me, this is the No. 1 best affiliate marketing program for beginners, because it is the prime example of "get paid to learn" on affiliate marketing. 
Wealthy Affiliate (WA) an all in one blogging platform, that hosts WordPress websites, provides 24/7 technical support and has a library full of training on how to start your blogging business and affiliate marketing.
I am going against the grain here by not recommending the popular and low initial cost 3rd party WordPress hosts like Bluehost, SiteGround or HostGator etc.
There's absolutely nothing wrong with them if you know what you are doing. However, if you are like me, who wants to start an online business but not technically strong when it comes to setting up a website and need help every step of the way, you are better off with Wealthy Affiliate.
In addition to the 24/7 technical support, the platform houses a community of 1.4 million like-minded members globally, which means you can get answers to your questions pretty much immediately at all times.
The best part?
It has a well-paid affiliate program, so you can make money while learning the ropes of blogging and affiliate marketing.
WA affiliate program is typically only available for premium members. In my opinion, this is best for someone who has an idea, needs a one-stop-shop all-in-one blogging platform and wants to learn step by step on affiliate marketing.
Making affiliate sales by promoting WA while you are learning is a great bonus.
Cost: Premium member only
Commission: $23.50 monthly recurring, or $175 yearly recurring
Minimum payment threshold: $20
How do I get paid: via PayPal
Cookie duration: Lifetime

                                                                 
Try Wealthy Affiliate Starter membership FREE here: 
Wrap up: 
There you have it – 5 best affiliate marketing programs for beginners. I hope you can take advantage of these amazing tools and make passive income from them at the same time. 
Regardless of what affiliate programs you are going to choose, just remember the 2 rules of thumb for beginners: 
Only affiliate with the tools/products that you use and enjoy. 
Start with just 1 or 2 products to promote. Don't spread yourself too thin. 
Cheers to your success,
Chloe